The following was submitted by John Barrott, detailing the work carried out on his MGC GT at Quest Brothers Classic Cars in 2018.
I have been working on my MGC GT since it was purchased in mid-2015. It was a 'barn find' in a quite original condition, though in a dismantled state and requiring sympathetic restoration/recommissioning.
I have restored a few classic cars in the past and I like to do most of the restoration work myself but I always use professionals to complete the actual paintwork. This is the part of the car which always provides the first impression and is also very difficult to carry out at home, given the inevitable disruption caused by the paint stripping, filling and spraying operations .. especially if you are working in a garage shared by other vehicles.
To date I had always used a top class and perfectionist painter from Sheffield (where I used to live) to do any paintwork but he has now retired so the search was on for someone more local that I could trust with my latest pride and joy.
I wanted to find someone who would be prepared to visit me first and discuss options. As I was carrying out my own welding and basic panel preparation I needed to make sure that they would be happy to take on what I gave them and then finish stripping all the paint before re-painting. I also wanted to see some examples of their work before making any commitments.
I was impressed by QBCC having visited them initially as part of a car club trip. Examples of their work looked very good and discussing options with Paul and Rod (who visited me and the MGC early in the process) built up my confidence to the point where I chose to give them the job.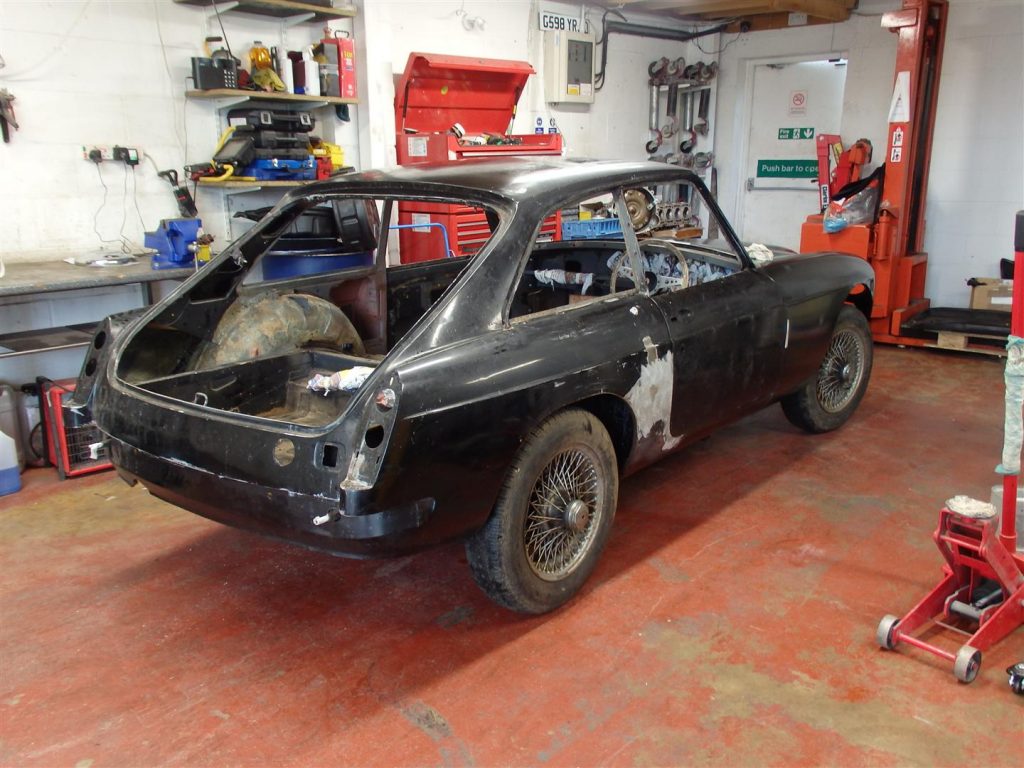 Close liaison with Hazel as regards my restoration progress and QBCC's work schedule led to the car being delivered as a rolling chassis/bodyshell at a convenient point in the restoration without causing any delays.
Rod and Dennis did a superb job. I had achieved good (better than new) panel gaps on doors, wings and bonnet but they still managed to improve on one or two of these slightly. Dennis also made a fine job of repairing the leading edge of the bonnet where some corrosion became apparent after the paint was fully removed. Their attention to detail was very good with the degree work carried out and the masking of already completed components exactly as we had discussed.
A slightly unexpected problem arose with the matching of the original paint colour. I had already painted the under bonnet area with an enamel which was a good match, but so-called matches from QBCC's usual suppliers were not so good. QBCC were pro-active and helpful in solving this problem and, in the end, Paul arranged to have the original paint spectrographically analysed and then specially mixed and this led to a precise match both with the original colour and with the paint already used in the engine compartment.
The car is now being built up around the painted shell and so far, the finish remains excellent. I look forward to visiting QBCC and showing them the completed car! For now, here's a before and after of the car.