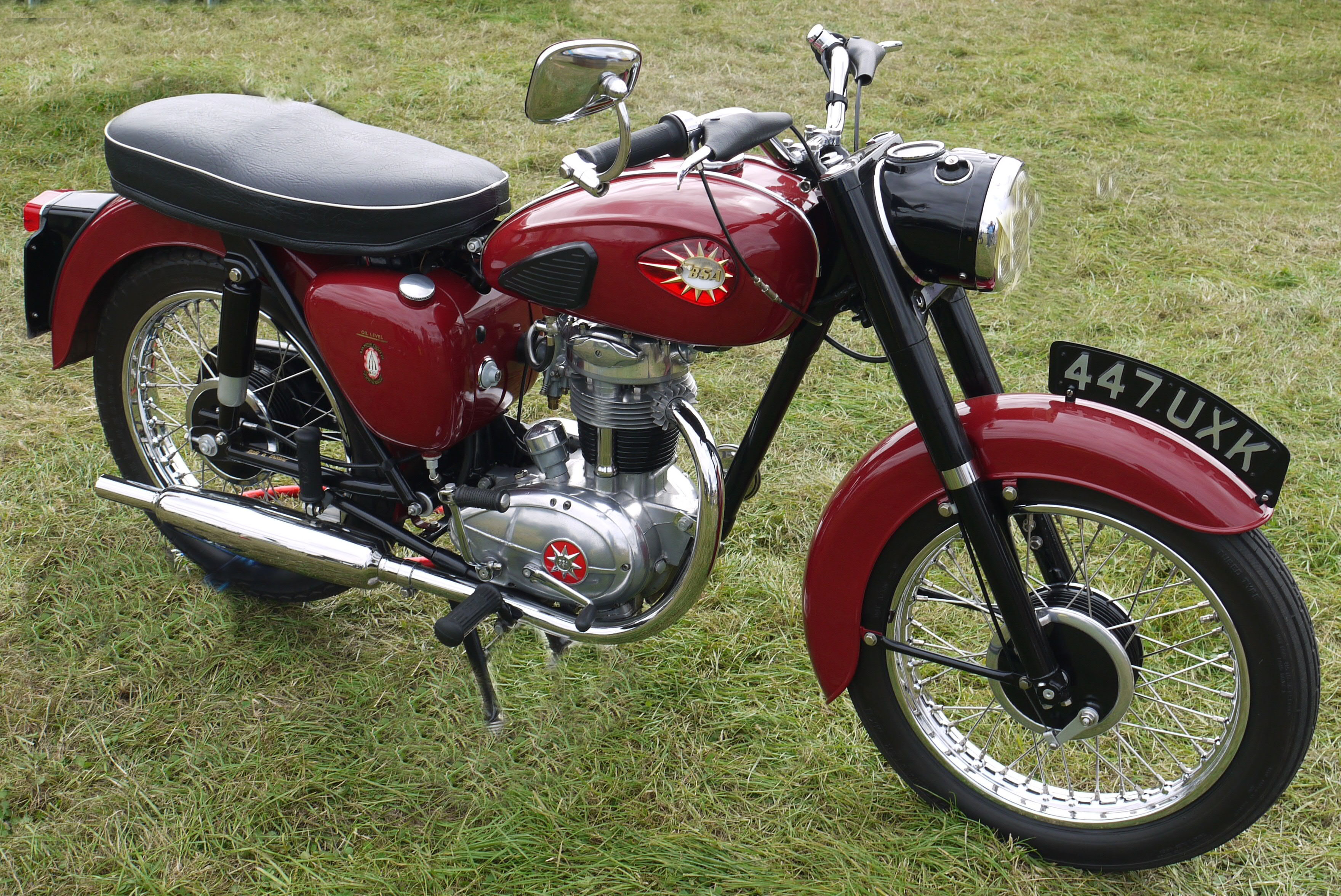 My first motorbike, the BSA 250cc, did sterling work for several years – getting to work of course, but since I lived mostly on farms it was my only way of going out in the evening, of reaching local towns for some night life.  But once I went to college in Devon I swopped it for an Ariel 500cc and the steady thump, thump of a single cylinder bike.  This was more powerful, with better brakes but often kicked back like a donkey on kick starting.  This was probably my poor mechanical skills when I look back, but then neither of my bikes ever went to a garage!  It wasn't a great bike – no wonder the Japanese took over the motorcycle industry – but I only ever rode one that was truly great and that was only for a very short time.  That was the ultimate at the time, the Vincent Black Shadow.
With a top speed of 125mph it was and remained for more than two decades the fastest production bike in the world.  Handmade and beautifully engineered less than 2000 were ever made (and are now sold at up to £60,000).  I was offered a ride on it in Ashford, Kent.  It was quite a handful; heavier than I was used to, quite different to ride, and with a lolloping gait, the power and torque felt limitless.  I spent nearly the whole time in second gear; this wasn't very limiting since the Shadow would do 90mph in second (or 110 mph in third) with acceleration that was breath taking. A memorable ride.  But a machine that encouraged risk taking; a fellow farm worker had one until, squeezing between a bus and a lorry on the A20 at high speed, he grazed both vehicles leaving long term damage to his knees. He was lucky – café racing is seen as romantic but the grim reaper scythed through too many participants, and he was the lucky one of his little group of friends, the others being killed or more seriously disabled.
But my days on a bike were over.  In 1967 I had just finished college and needed better transport for work.  I took a few lessons in a Triumph Herald which felt light and nimble after my experience of tractors, Land Rovers and lorries and got a full licence.  I then looked for something I could afford and saw an ad for a car at £50.  It was a 1947, JDV 124, Lanchester 10 about which I knew nothing at all. Not surprising for only 12,000 were made over nearly 20 years.
It was in good condition and, strapped for cash, I got it for £47 pounds 10 shillings.  It had a very well made with a body by Briggs but was heavy body coupled with a 1200cc engine, so performance wasn't its strength.  But it was extremely comfortable and smooth for a small car, a sort of mini-Daimler.
Having done the deal, I set off.  The car had a Daimler pre-selective gearbox with fluid flywheel where you chose the next gear you expected to use by moving a lever on the left hand side of the steering wheel.  This didn't change gear at the time but only when you depressed the clutch. This wasn't too bad but the handling was a startling revelation after the Herald. I took the first of the Devon bends at a steady speed but the Lanchester didn't respond to the steering wheel so much as simply roll like an overweight sow while continuing straight on.  I mounted the verge, bouncing around like a rubber ball, hauled the wheel over, regained the road and drove on a decidedly relaxed pace.
But in many ways the Lanchester worked well, being reliable, comfortable and, once you were used to it, easy to drive.  There came a point when it needed work.  It would have cost only £150 for a respray and a reconditioned engine but I wanted something more modern and part exchanged it for something radically different.  The part ex price was generous and more than I paid for it – this seemed to be because the salesman thought it had an aluminium body; some did have this but not this one.  Probably the only salesman I ever got the better of!